Jockey Club Sarah Roe School's latest newsletter is available to read now. Find out the latest news around the school and upcoming events.
Dear Parents,
Arrangements for after Chinese New Year
You would have seen an announcement from the Education Bureau (EDB) that after Chinese New Year, schools can increase the number of students at school at any one time to one third of the maximum capacity. Students can only come to school for half a day.
We are very pleased that we will be able to welcome additional students into school each day. In JCSRS it means all students will come to school every day for a half-day session. We will have four classes in the morning and four classes in the afternoon. As before we need a bit of time to consider and work out operational implications. We will share a new class schedule and revised distance learning guidance early next week. I thank you in advance for your patience.
I think we all appreciate the much needed consistency the new class schedule will bring. We are very aware that families and school staff are under a lot of pressure at the moment and this is having a negative impact on everyone's health and well-being. We know that even with the best efforts, nothing will replace face-to-face learning and the invaluable in-person interaction with other students and staff. We will continue to reflect on how best to support the whole school community and we will quickly respond to any opportunities to enhance learning for students.
Drop off time
During the last few weeks we have relaxed arrangements for students' drop off as it was really cold outside. Unfortunately, this now means we have students gathering in the reception area, which is not safe. We kindly ask that all students wait in the playground and that you encourage them to line up when it is time to come into school. Our staff will also go out to help.
ESF Parent Survey – Learning Provision
Gathering your feedback is an important part of us working together to support our students' learning and wellbeing. As such, we kindly request you to complete a short survey linked here based on your perception of your child's experiences so far. The survey will close on Wednesday 10th February 3pm. Thank you for completing the survey and for sharing your views with us.
Optional mid-year Parent Meetings
You would have received by now your child's mid-year report and Individual Education Plan (IEP). I hope that you will take advantage of this opportunity to meet with your child's classroom teacher to discuss your child's progress and their targets for the next term.
As we look forward with hope to the Year of the Ox, I wish you all a very happy and relaxing break.
Kung Hei Fat Choy,
Anna
It's time to celebrate the year of the Ox together at JCSRS! We are excited to share with you the fun activities that we planned for Chinese New Year next week. Volunteers from the HKU Speechians Union will be delivering Zoom activities supervised by our Speech Therapists. There will be storytelling, learning CNY vocabulary and makaton signs, and fun games for everyone. The therapy team will also be setting up CNY activity stations in the Hall for students coming in to school. Click here for our CNY poster. Zoom links and times will be provided in your weekly class timetables. Be sure to login to the zooms and see you all next week!
For families of students graduating in June 2021 and 2022:
Please save March 11th, 2021 from 5.30pm in your calendars if you would like to join an online information session with invited guests from a selection of Hong Kong agencies. They will provide information on services and programmes available for your son/daughter following graduation from JCSRS. More information to come.
Term 2 marked the beginning of our new unit We Are The World. This unit explores life cycles and living things as well as the environment. It has a strong emphasis on Science as well as Relationship and Sexuality Education. The different classes have been focusing on different elements of the central idea based on their prior knowledge and skills as well as their interests.
Some classes started by exploring living and non-living things and life cycles. Each class has a tiny guest at the moment – a Darkling Beetle Larva (Mealworm).
Mealworms are housed in small boxes for easy viewing.
Mealworm curling up for a rest before changing.
Mealworm shedding its exoskeleton to transform into a pupa.
We are all very excited to see the next stage of the life cycle!
Other classes have focused on the environment and our responsibilities to the environment. We are all very excited to be taking part in a whole school Art Project related to this theme. We will be able to share more details about this in the next newsletter.
Sorting living and non-living things.
Sorting items for recycling.
Exploring the bean lifecycle.
Some classes are looking forward to taking part in a virtual trip to Kadoorie farm next month to further extend their knowledge and understanding of living things and the environment.
All classes are exploring how bodies change and grow. Each class will explore ideas about the human life cycle and body parts in a way that is appropriate to their age and stage of development. You can find more details about this aspect of the unit in the last newsletter (dated 22nd January).
As always, thank you for your continued support at home to help us deliver an engaging and meaningful curriculum to students.
Karen Carmody
Lead Teacher – Curriculum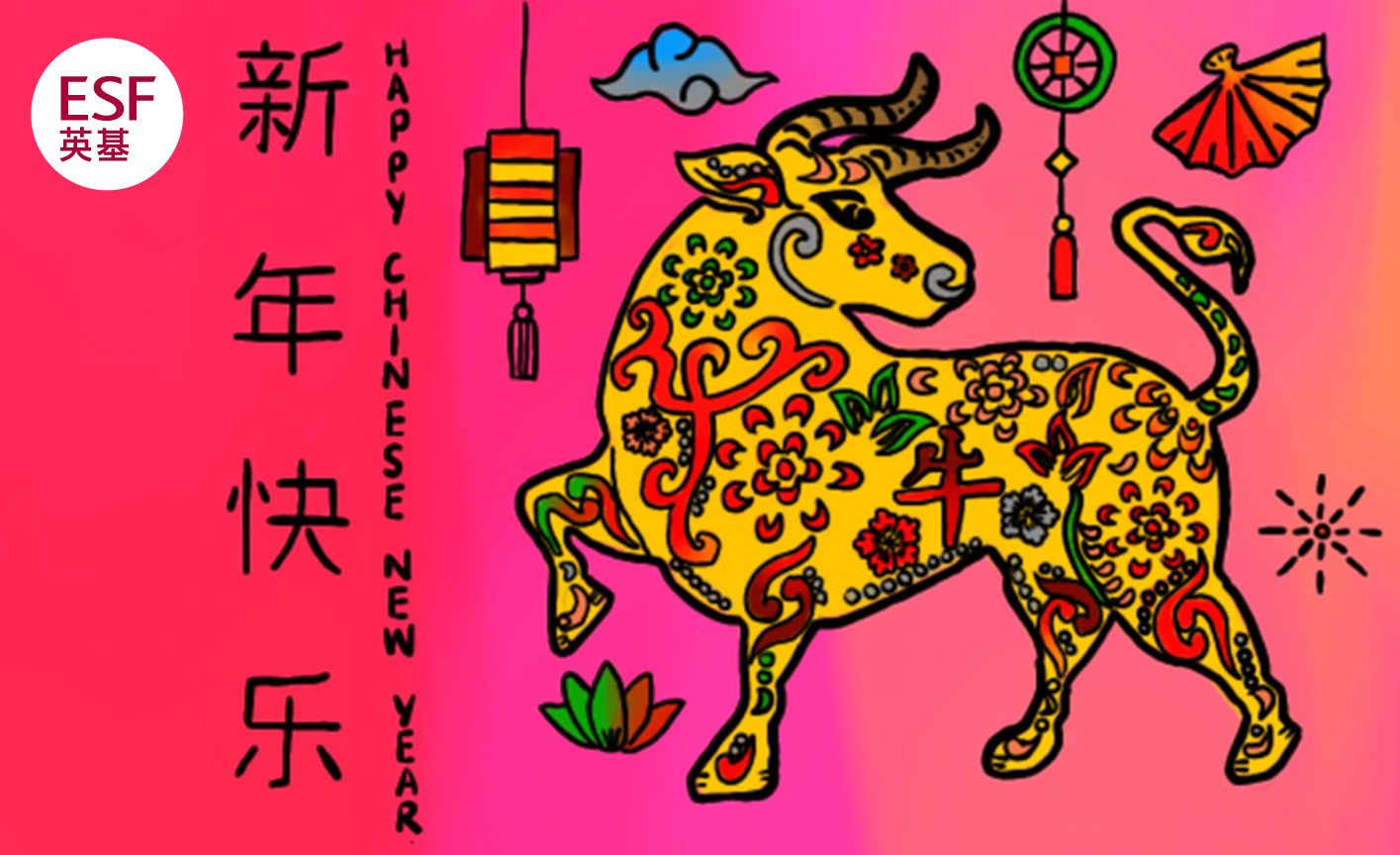 To celebrate the upcoming Lunar New Year, more than 300 students from 18 of our schools crafted imaginative greeting cards and artworks for our ESF Year of the Ox Virtual Art Gallery, which launched today (Friday, Feb 5) and runs until February 26.
JCSRS staff were delighted with the artistic and original talent and the results of our students' entries. In total, 34 JCSRS students submitted stunning and original Chinese New Year designs.
From colourful cartoons and nature-inspired collages to beautiful paintings and dynamic digital art – each thoughtful creation is a joy to behold. We hope you will join us in exploring this fantastic online exhibition and experiencing the remarkable creativity of our students. You can click here to visit the gallery.
Each student's artwork was also put forward to be our ESF Year of the Ox E-Card. ESF CEO Belinda Greer led a judging panel in the tough task of narrowing down the array of entries for a staff vote. Many congratulations to Isaac Chan in Pearl class who was chosen to be in the top 10 (artwork shown below); we are all very proud of you!
I think you'll agree the winning artwork is fantastically festive. You can view and download the e-card from the ESF website. We hope you will enjoy sending this heart-warming card to your family and friends.
Congratulations to everyone for their efforts; I look forward to the JCSRS art exhibition in May!
Sally Fryer
Art Coordinator
Activities to Encourage Communication
Here are some activities that you can try to support your child using their talker (iPad, GoTalk etc.) at home. In each newsletter there will be different tips, activities or information about AAC and how you can help your child communicate.
Ensure your child has their talker with them as often as possible.
The aim of these activities is for the adult to model the words on the talker. Try to avoid moving the child's hands to the words.
1. Playing with a ball.
Roll or throw a ball to your child.
Give lots of praise with an excited look on your face when they get the ball.
PAUSE.
Encourage your child to push the ball back.
PAUSE
Model 'go' on the talker.
PAUSE
Roll the ball again.
Repeat this. Each time giving pauses after modelling to allow the student time to use their talker.
2. Stacking items.
Explain to your child you are going to build a tower.
Choose some items from around the house e.g. toilet roll, tin of food, book, toy, box of tissues. (you can ask your child to help by offering an item and asking 'do you want this "yes or no?")
Place one item on the floor or table.
PAUSE
Model 'more' on the talker.
PAUSE
Place another item on the tower.
Repeat with a few items.
When the tower falls say 'crash!' In a loud and excited voice.
3. Bubbles.
Act excited to get the bubbles out.
Model "open" on the talker as you open the bubbles.
Blow the bubbles.
PAUSE
Model "more" on the talker.
PAUSE
Repeat the word "pop" as you pop the bubbles together.
Repeat until your child shows they are not interested. Model "finished" on the talker.
Hong Kong Primary Schools Sports Association Cross County Challenge 2020/21
Due to COVID restrictions the Cross Country season is unable to take place under its normal guise so it's gone virtual!!
The four weekly challenges have been set up to promote active participation by our primary community or in JCSRS's case the whole community.
All you need to do is walk or run on which ever day you like and log your distance.
All distances are then uploaded to the overall HKPSSA website found here www.hkpssa.org
Just click through these tabs to find the full results of JCSRS runners and the other primary schools. (HKPSSA EVENTS – INDIVIDUAL CHALLENGES – INDIVIDUAL EVENTS – CROSS COUNTRY CHALLENGES)
If you wish to join us you just need to click the links below and sign up. You can do one week or all of the remaining weeks.
This week we have 8 students, 7 parents and 15 staff signed up. Well done everyone.
Let's try and make it to over 50% of our students signing up in the coming weeks.
And remember it's not too late to sign up this week because you can still get out at the weekend.
Good luck and let's get active together.
Run dates and Event link
1-7 February – Bora Bora Challenge
15-21 February – UK Challenge
1-7 March – Hong Kong Challenge
15-21 March – New Zealand (North Island) Challenge